About the artist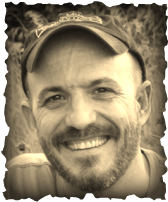 Phil Foster has been working as a freelance editorial illustrator since 1986 for myriad national publications, and is represented by Gerald & Cullen Rapp in New York City. His recent return to his personal art bears the influence of those "editorial years" as the work is often pointed in its narrative social commentary, often with a whimsical or satirical undertone. Wood is the core medium throughout these pieces, with minor migrations incorporating other mixed materials -

"I'm certainly no purist (with regard to 'wood working'), so traditional craftsman will have to forgive the fact that my focus is elsewhere. I simply love to work with the material, as a painter relishes his paint. - Yes, "the medium is the message", "form IS content" etc., those old academic saws are valid... but in the case of my works in wood, the medium serves my own more deliberate message or allusion. In addition to my enjoying the process of working with wood, I feel that it offers a visual richness and tactility that instinctively engages folks quite immediately, and perhaps invites them to stay a bit longer to explore what might be there."


Phil received his B.F.A. in painting from Utah State University in 1982 and his M.F.A. degree in printmaking from Wichita State University in 1985.

---